Motorcycles & Scooters - Ocala, FL (81)
Find Listings by Subcategory
Motobecane Mobylette 50V Moped. This pedal start moped is mostly complete. The engine is free (not siezed). Great start for a small project. I […]
150cc gas scooter. Fluids all fresh. New battery. Body panels not busted, but does have some minor scrapes. Scooter needs nothing. Get on it […]
Well maintained 800cc Cruiser with Factory Windshield, crash bars, leather bags, rear rack, floor boards, heel – toe Shifter and an incredible $800 set […]
2020 Harley Davidson 883 Sportster, One owner, Only 1,350 miles, Runs and looks great, Garage kept, $6,700.
2020 Road Glide, Only 6,200 miles,Looks and runs great, Milwaukee Eight engine, Screaming Eagle, Stereo system, and Rinehart exhaust system, Garage kept, $19,800.
One owner, runs and drives great! All maintenance recently performed. Title in hand.
REDUCED for BIKETOBERFEST!! – This is a Low Mileage Bike, great condition, runs, sounds like it should! Extra goodies, Bars, Rims, Small tear in […]
2014 Harley Davidson switch back Fld 103. Original owner, 4400 miles. Call or text David 603-770-4628 price is firm.
Yamaha 950cc V-Twin Scrambler in showroom condition with only 5,800 miles. No issues and ready to ride anywhere. Always garaged and meticulously maintained. Feel […]
2006 Harley-davidson electra glide ultra classic. $8500
Bike is in great condition. Just put in new carburetor , filter, gas lines and a detailed paint job.
This bike 2014 indian vintage==only has=== 1,540==miles it==its like brand new with many extras added to the bike give me a call 352-465-3648====ask for […]
Beautiful Harley, mostly all factory, a few upgrades, but mostly original, bike has been stored in shed out of weather and is in pretty […]
$100 REDUCTION • 500 lbs. weight capacity • Up to 5.8 mph • 53″ turning radius • Up to 19.5 miles per charge • […]
1 big one the wrangler model2 speed motor fast and faster,and 1 smaller one president model, both are 4 wheelers in excellent condition they […]
I DON`T DO SCAM CODES, SO DON`T ASK 2012 Harley Davidson Heritage Softail 1HD1BWV11CB024849 Extremely low milage Two Tone, Ember Red Sunglow / Merlot […]
2007 fat boy, if the ad is up it`s available so don`t ask if it`s available 1hd1bx5177y059310 recent 3-hole synthetic fluid change, new front […]
electric scooter . new battery and comes with charger. practically brand new
Up for sale is my clean Silver 1999 Harley-Davidson Heritage Springer. Yes, you finally found one! This is the last year of the EVO […]
Yamaha YZ monoshock Front forks ,rim and tire.and rim Rear monoshock assembly with tire and rim. Great parts … best offer Not sure of […]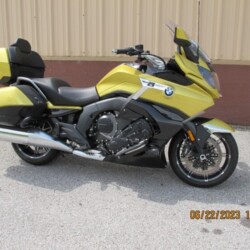 2018 bmw k16oob grand america, 3,101 miles, forged wheels, bmw navigator (navigation), electric windshield, led running lights, motor & side bag guards, 1″ handlebar […]
2023 Honda Trail 125 includes Titan Ramp See pictures for specifications.
Excellent condition. Garage kept. Mechanically sound. New battery. 4362 miles. Very fast, detailed chopper. Added lights, multi colors to choose from. Clean title in […]
All in good condition Harley bags $300.00 Seat — $125.00 Touring bag s $90.00
2009 Yamaha Royal Star Tour Deluxe!! $4000- MUST SELL TODAY!!! CALL FOR DETAILS!! (352) 695-3876
20001 Suzuki GSX-R600. Have title and key. Yoshimura exhaust. Has been sitting.
2015 Ducati Diavel Carbon. 1200cc. 19k miles. Anti theft and hands free ignition. Fully adjustable suspension. Lightweight forged wheels. $13,000 OBO. Comes with saddle […]
Brand new. Never worn. Perfect. Size 3XL. Men's Harley Davidson perforated, heavy weight, thick leather jacket. Cash. You pick up at our home in […]
Brand new. Never worn. Perfect. Still has Harley dealer tags. Women's Miss Enthusiast Triple Vent Leather Jacket. Model 98134-17VW. Size 2XL. Cash. You pick […]
2015 Harley Davidson Street 500 for sale 7985k miles! Perfect shape!
2012 Kawasaki Vulcan 900 Classic. One owner! Garage kept, new battery, excellent condition. Includes cover.
2014 Kawasaki Ninja 1000. One owner!! Excellent condition! Low miles, garage kept, cover included. Extras are K&N filter, fender eliminator kit, zero gravity windscreen, […]
07-soft tail deluxe super classic, one owner, garage kept, like new condition, white pearl, minight blue pearl, definitely, a great piece of history, sadly, […]
Always garaged. Scooter laid up due medical. Had Brick City V-Twin do a complete service to include fuel pump, fuel injector assembly and battery […]
Used primarily to get around NPS camp grounds. It's been to Alaska & Colorado so it's not in perfect cosmetic shape.Has new battery. Tops […]
Honda Goldwing luggage liners. 2 for saddlebags & 1 for trunk. excellent condition. $25 each
2018 Kawasaki Vulcan Voyager 1700 ABS, Cruise Control, AM/FM/AUX Sound system. Tires great shape, Service kept up,
This purple beauty has flames licking on the body. It's got high miles but is still an amazing ride! Minor damage on the front […]
The Screaming Eagle Harley Davidson is an amazing bike to ride. This red ride is in decent condition, been maintained well. Will accept best […]
Take all $80.00 or sell separate Black helmets Sm and white is Xl
For sale: 1993 Honda Goldwing SE I am selling my 1993 Honda Goldwing motorcycle. This iconic bike is perfect for long rides and offers […]
Bought for grand kids tthey do not use at all. Like new still has dimples on original tires.Excellent condition. Price is firm. Cost new […]
2011 CanAm Spyder RT-S SE5 15,200 miles.Full service history available. Aftermarket fog lamps. Flag kit with American and Born to Ride flags. Low mileage […]
1800 Gold Wing Trike with California Side Car conversion, one owner, always garaged, factory CB .(includes helmet attachment and mike cord), easy steer, ground […]
Like new 2019 WR450F for sale. LESS THAN 10 miles on the clock! Bone stock but comes with the following N.I.B. parts: 1) Yamaha […]
2014 Aprilia Tuono 1100 V4. The bike has several upgrades, including: Leo Vince full exhaust system, Power Commander, Tuono v4 frame sliders, Vortex brake […]
1982 Honda GL 1100 Interstate converted.to street Bike.Bike is in great shape.. A lot of interstate stuff removed.. Bike has been lowered a little […]