Other Pets - Ocala, FL (83)
Find Listings by Subcategory
Purebred parti Yorkies. Female & Male available with beautiful multi color coat. (brown, tan ∧ white colors) weigh 4 1/2 lbs. Born 4/2/23, Please […]
2 Boer x Nigerian twin bucklings. $150 each. Wormed and eating grain. Handled daily, super friendly. 2 month old.
1 neutered male and 3 females. They do not come with a cage but will come with their pouches.
2…2 month old sulcata tortoises for sale. Eating good and healthy. I was given them as a gift and cannot keep them. Price is […]
3 y/o Miniature Jack…..we are downsizing some and "Jimmy" is looking for a new home! He is sweet when he wants to be and […]
We have a few Redfoots available, from standard to very light in color Prices start at $125
Very sweet baby Pygmy marmoset & Capuchin Monkeys are on the bottle, wears diapers, is 12 weeks old and is ready for a great […]
Looking to Re-home a Mini Poodle. House broken, Good with kids, energetic and has FL Health Certifate papers, as well as vet papers. Was […]
I take unwanted, large birds! Must be under 20yrs old. I take Indian Ringnecks, Catalina Macaws, all breeds of Cockatoos, and African and Congo […]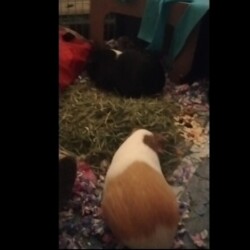 I have two female guinea pigs for sale. Suzie and Lola. Suzie is brown and white and lola is black and white. Come with […]
We have two bucks and an exposed doe for sale! Everyone is CDT vaccinated and wormed. On getting and hay. Natural horns unaltered. 1st […]
Piglets. Meishan, pot belly, piney woods. Prices start at $40. Prices vary depending on age, breed and amount purchased.
Must go together! Unsure if male or female but were raised together. Comes with 60 gal tank with lid and the stand it sits […]
Variety of koi fish. Message for more information. Prices start at $5
Our baby marmoset monkeys are just 2 left and are some few weeks old now . they are recent on all shots , good […]
Well-trained male and female adorable marmoset monkeys seeking a new home. We are looking for someone all over the county who can show these […]
Locally bred here in Ocala. 3 month old baby sulcatas $80 each 2 for $150 3 for $200 10 for $550 Will meet by […]
I have at least 6 ADGA registered Nigerian Does for sale. some are exposed to registered nigerian bucks some are open. some have blue […]
AUSTRALIAN SHEPHERD PUPS – Male Red Merle w/ Blue 💙 eyes & Female Red Tri w/ Blue 💙 Eyes. Super socialized. Vaccinated & Dewormed. […]
1 male brindle colored doxie. He turned 8 weeks old on August 26th. He has his health certificate and shots. The mother is a […]
1 Nubian male fixed 300$, 1 female Boer Spanish intact 400$, 1 male kid Nubian Spanish Boer intact 300$ 352 nine4nine49seven4
5 year old female pastel clown ball python. She is very sweet and friendly. Eats frozen rats. Comes with 40 gallon enclosure. $125 for […]
We have ducklings many sizes Drake's and hens if you take all 25 we will take 75.00 if you just want a few we […]
Healthy young boar goats for sale good heard starters gentle people friendly 250$ each or 2 females and 1 one male 1000$
18x14x35 10 small door, 2 large door birdcage with sliding tray and grate for easy cleaning. Includes food and water container, two perches, bird […]
Bernedoodle / Golden Retrievers available (not an intentional breeding) 6 available (4 males & 2 females) All have received first round of vaccines & […]
30$ with tank, lid, light, heating pad and adult Kenyan Sand Boa all together included
Adult Kenyan Sand Boa with light, heating pad, 10 tank with lid and heating pad.
Goldendoodles ready for their new home, microchipped, vaccinated and comes with health certificate
These marmoset monkey are hand raised, well tamed, very playful, toilet trained and very friendly. We sell them only to those who are ready […]
I have a seven week old baby Nubian goat very friendly, very adorable, light brown eyes little horns. His mom and Twin were sold, […]
I have a young eight month old, pygmy goat very humble and friendly gets along with other goats not aggressive or territorial likes to […]
We have red composting worms Starting at $30.00 Per pound. We also have worm castings for $ 25.00 per 5 gallon bucket.
Rehoming two goats because I'm in need of the pasture space for my cows. About 2 years old. We've had them since they were […]
Baby Rainbow Parakeets, litter of 7. They are 2 weeks out of nest & eating on their own. $20 each Also have laying hens […]
40 gallon salt water tank with everything included. There's nothing wrong with it, I got laid off and can't afford to keep up with […]
Bernedoodle puppies available, we have minis, medium and standard size puppies, they are up to date on shots, good with kids and other pets,
6 brindle / American bully mix pup's. Mommy is brindle, Daddy is American bully .Asking $50.00 relocating fee
2 year old Nigerian dwarf doe, blonde and white. Too small for my buck. Asking 250 or best offer.